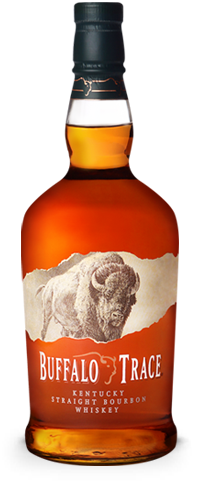 "An absolutely classic nose of vanilla, baked cherries, clove, and cigar wrapping. Soft and delightfully mellow on the palate, with vanilla coming forward and hints of toasted walnut and apricot bringing up the rear. Smooth, long, and delicious."
- 92 Points, Ultimate Beverage Challenge
"At 90 proof, it has a viscous mouthfeel and an inviting aroma of vanilla and toffee. A sweet, though not cloying, sipper, it has notes of leather, toffee, and anise - plus a long finish."
- 90 Points, Whisky Advocate
"Ancient buffalo carved paths through the wilderness that led America's first pioneers and explorers westward. One such trail led to the banks of the Kentucky River where Buffalo Trace Distillery has been making bourbon whiskey the same way for more than 200 years. In tribute to the mighty buffalo and the rugged, independent spirit of the pioneers who followed them westward, we created our signature Buffalo Trace Kentucky Straight Bourbon Whiskey."
- Distillery Notes